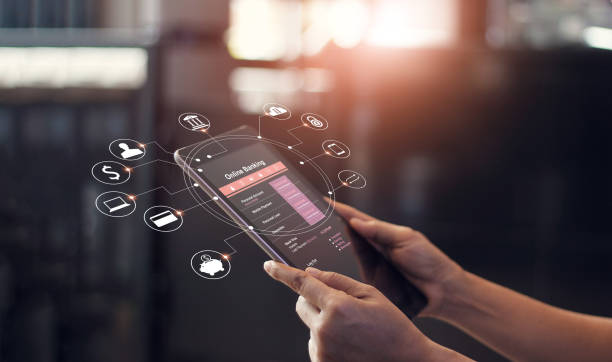 Banking software is meant to make managing personal or corporate finances easier by providing a full comprehensive review of earnings and expenditures. However, its functions do not end there. Nowadays financial software can assist with anything. So the customers only have to choose the right app, which will suit their taste and needs.
What is financial software capable of?
These applications help you sync up all bank accounts and run your finances much more sensibly. The software market offers several corresponding programs with different structures and implemented features. You should consider installing one of them if you would like someone to assist you with:
setting up a budget;
investing;
summing up all the costs;
conducting and recording transactions;
assisting wealth management;
connecting various accounts;
managing your bills and taxes.
How does banking software work?
Financial services record transactions and pass the information to banks and their customers. These apps provide structured insight on cost-effectiveness, keep track of past transactions, reoccurring payments, and fund flow, etc. They also facilitate financial relationships between various parties online.
Types of banking software
The applications are primarily divided into programs used to assist a financial institution or an individual. Depending on their functions they are split into:
1. Core banking applications. These are the services used for establishing a bank customer account and performing basic transactions like money transfer, electronic bill payment, mortgage management, etc.
2. Trading services. These programs assist with investments and provide an access to capital markets.
Top banking software companies
When it comes to money, it is especially crucial to turn to trustworthy companies with heightened security. As far as best banking software goes, Microsoft remains the leading vendor, followed by FIS Global and Fiserv. They provide solutions, clouds, and collaborate with primarily financial software companies.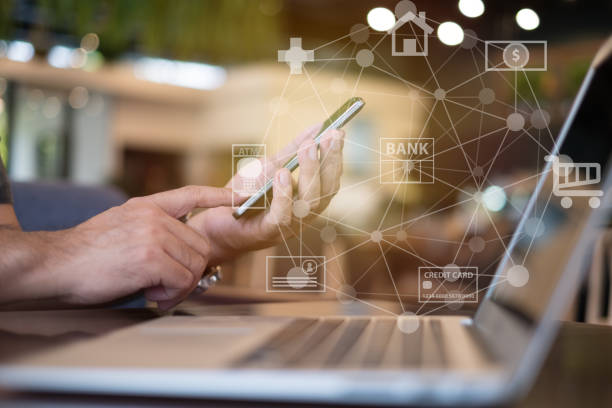 Best core banking solutions
Core banking is the backbone of any financial institution. It directly influences its efficiency, hence relevance and profitability. Below is given a short review of the most popular and trustworthy core banking services, such as Temenos, Finacle, DNA, FLEXCUBE, and FIS solutions.
Temenos
This solution is the most purchased core banking system. It is a fast service suitable for retail and corporate banking. It operates in 150+ countries and is used as a core system in over 100 banks. Temenos is capable of managing payments, wealth, and treasury. Temenos solutions also administrate funds and liaise with credit units and Islamic banks. The solutions operate on-premises and on clouds.
Finacle
This solution is another effective fit, as it takes pride in heightened security and multicurrency, as the solution is supported worldwide. Finacle is engaged in:
retail and corporate banking;
liquidity management;
treasury;
online banking;
wealth management;
Islamic banking.
Finacle solutions also operate on-premises and on clouds.
DNA
The system is introduced by Fiserv, one of the most trusted banking software companies. It connects banks, credit unions, merchants, corporates, and individuals. DNA offers payments on-premises and digital transactions. The platform is flexible and custom-friendly, so clients can easily tailor it to their needs. It handles:
enterprise and personal payments;
bill payment;
lending;
remittance;
deposits;
online banking;
risk management;
investment;
AML Compliance management.
FLEXCUBE
Oracle FLEXCUBE prides itself on universal banking. It offers multi-currency and multi-country operations. FLEXCUBE supports conventional and Islamic banking. It offers:
transaction management;
financial institution to third party mediation;
loans management;
investment;
retirement planners;
insurance.
As well as other core banking systems mentioned above, FLEXCUBE operates digitally on Сloud and premises. It also provides comprehensive reports for clients on their finance.
FIS solutions
The company offers four systems to suit its clients' needs. ClearEdge is a simple yet flexible solution meant to ease contracting and pricing implementation. It offers:
business intelligence;
debit processing and card management;
online and mobile banking;
bill payment;
fraud management;
multiple channel integration.
Another program designed by FIS is Integrated Banking Solution. It is more enhanced and deals with:
payments;
deposits;
trusts;
lending;
treasury management;
retail and commercial banking;
risks/frauds compliance management.
Its HORIZON system is dedicated to community banking. The system is enhanced with digital and mobile banking features, fraud solutions, cloud computing, and various analytics. FIS Modern Banking Platform offers a next-generation system, supported by cloud computing. Besides foundational core banking features, it provides enterprise pricing and alerts, reconciliation, real-time data analytics, and product management.
Top best banking software
The following review offers insight into the widely used applications for managing personal finance.
Quicken
Quicken is a versatile banking software available on IOS, Android, and Windows. The app provides a complete financial picture, automatically downloading balances and transactions of added accounts. Besides, users can add any earnings and expenses manually. Quicken organizes all balances and splits them into large groups in compliance with their functions: cash, savings, investment, credits, etc. It also provides a comprehensive review of spending, stating how much exactly you spend on food, transport, bills, clothing, or taxes. The app also manages all your added subscriptions and investment accounts, it creates a personalized budget and tax schedules.
The downsides of the app are the following:
Quicken is reported to have poor customers service;
obligatory installation of desktop version;
the subscription is quite expensive.
Mint
This software is designated by the same company, though this service is free. As well as Quicken Mint is used for synching up and managing your various bank accounts. The software is capable of:
bills tracking;
credit management;
investment tracking;
various financial analytics including reports on more favorable deals and subscriptions;
budget planning.
As far as disadvantages go, Mint offers fewer features than its fee-based counterpart, and users report reoccurring problems with account synchronization.
YNAB
This app is primarily used for setting up a budget. As distinct from other software, YNAB prompts its users to set goals and designate all finance available. This way they know how much they will spend before the actual transaction. You can link your bank accounts or add transactions manually. The created budget is not set in stone, and users can make amendments. However the app philosophy is to master the art of creating a budget, so you will be able to center your finance around it and the other way round.
The downsides of YNAB are the following:
lack of investment features;
lack bills management function;
unavailable retirement planner;
lack of versatile data export (only reports via email are available).
Expense 1Q
This service is quite versatile. It features an expenditures tracker, budget planner, bill management, and comprehensive analytics. It also adds taxes and investments to the picture and supports accounts with different currencies simultaneously.
As for disadvantages, users report that once the system glitches you might not be able to restore your data. They also complain about poor customer service.
Every Dollar
Fairly new software is designed for budgeting. Every Dollar is famous for its simple interface, so it is usually recommended for those who have never worked with budgeting apps before. It is not overloaded with functions, so the process of creating a budget is fairly simple. The main downside is the fact that users have to add all information manually.
Wallet
Wallet is a personal finance management service, which keeps track of users' credit cards, savings, and loans. It offers a three-month history of all transactions. However, it is worth mentioning that the app doesn't provide instant updates after new information has been added. The updated data will be available the next day.
The main disadvantage is the lack of versatility, as Wallet is primarily set up for synchronization of several financial accounts.
Credit Karma
This free app tracks its users' credit scores, gathering information from two credit bureaus. The service is used by those who want to check their creditworthiness. It monitors loans and provides customized offers on debt relief. The service updates your score once a week.
WalletHub
WalletHub is another service for acquiring your credit score for free. Unlike Credit Karma, it is updated daily. However, it is less comprehensive, as WalletHub extracts information from one credit bureau.
CountAbout
This software is a simple online service that keeps track of users' transactions. It can also import data from Quicken or Mint. It offers comprehensive reports and categorization and helps set up reoccurring transactions. The main disadvantage is the fact that the app is pricey despite its simplicity and lack of versatility.
Personal Capital
The software is dedicated to portfolio management and retirement planner. Its prime function is to analyze added financial accounts and come up with ideas to increase profits. The service designates each client a personal assistant to make the most of their assets and increase savings. The all-around assistance is provided only for affluent investors. To sign up with Personal Capital one should possess at least $100,000 in assets.
Best online banking software
Online apps facilitate and simplify digital banking. Top-rated ones are global, custom-friendly, and versatile. NexorONE stands out as one of the best online banking platforms. It manages digital transactions and renders comprehensive analytics. NexorONE features international money transfer that supports SEPA and IBAN transactions.
PayNet Cloud deals with both digital and in-person payments. It handles bill payment, brokerage, and credit card management. It also processes cryptocurrency.
The goal of Fraud.net platform is to prevent digital fraud. It is suitable for the banking and insurance sectors. It provides brokerage and loan management, risk assessment, and fraud detection.
Plaid is a versatile online platform, which prides itself in loan management. Additionally, it handles student loans. Plaid also features budgeting and investing functions.
eBanking is a simple and custom-friendly platform for those, who don't want to be overwhelmed with functions. The platform handles P2P payments, which are secured by a fraud detection service. It also supports digital wallets, provides loan management and bill payment.
There is an abundance of platforms used in the banking sector, which helps to optimize and simplify the whole experience. Organizing your finance can be fun and profitable, once you choose the right assisting app.
Support Ukraine against russian fascists! Defend Europe from horde! Glory to Ukraine! 🇺🇦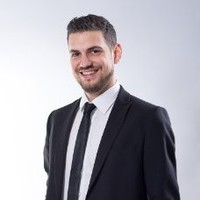 Head and Editor in Chief of EcmaScript2017 Journal. Senior JS Back-end Full stack developer and software architect.